Search for articles, books, and more...
Install Google Scholar
You can install Saint Mary's Google Scholar on your computer! This saves time by linking you directly from your Google Scholar search results to the full article in Saint Mary's Library. Here's how:
Go to Google Scholar.
Select 
Select 
Select Library links from the left sidebar.
Copy and paste Saint Mary's University of Minnesota into the search box and select the search icon.
Select Saint Mary's University of Minnesota – Full Text Options – SMU.
Select Save. Success! Google Scholar will now recognize you as a Saint Mary's student anytime you use this computer.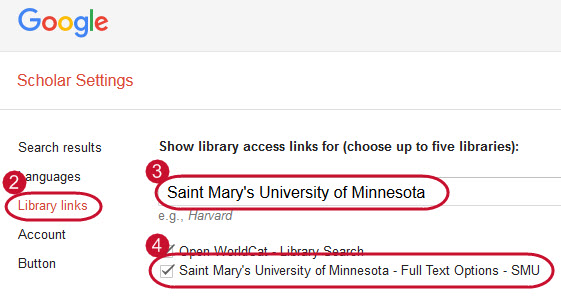 Find an Article from a Citation
You can find articles easily in Google Scholar using the article title.
Go to Saint Mary's Google Scholar.
Type the article title in quotation marks (e.g., "Changing the concept and measure of service quality in academic libraries")
Select the search icon.
Scan the results list for your article title.
Select the Full Text Options – SMU link to the right or the  below the article (see example).
View the new menu that contains one of the two options for getting your article:

Find a copy now:
Select a database, and you will be taken to your article.
Request a copy:
See Request Articles instructions below.
Troubleshooting
Verify that the title you entered is correct.
If you are still unable to find your article, complete the interlibrary loan request form. Learn how.
Request Articles
You can request items found on Google Scholar through interlibrary loan.
Select the Full Text Options – SMU link to the right or the  below the article (see example).
Select Request this article from another library (avg. 1-4 business days).
Complete the form to request the article through Interlibrary Loan. Your article will be emailed to your Saint Mary's Gmail account.
Cite Items
Get citations for items in Google Scholar.
Select  below the article title.
Find the citation style you need.
Copy and paste citation.
Proofread and edit the citation as needed.

Find Recent Research
Using Google's Cited by function will help you find more recent resources on your topic. Selecting this link will show you a list of newer resources that have referenced the item.

Find Resources by Author
Many authors have profiles on Google Scholar that list their publications. To search by author, use the "author:" operator. For example, author:"k breevaart" or author:"kimberley breevaart". If an author name is presented as a link underneath the title, you can select it to view their author profile. See an example of an author profile on Google Scholar.

Search a Topic
If you are having trouble finding resources in SuperSearch, try searching Google Scholar.
Enter your your basic search terms into the search box.
Keep any phrases in "quotation marks". For example, "Lake Superior".
Avoid using Boolean operators (AND, OR, NOT) and truncation (teen*) as these do not work in Google Scholar.