PubMed | MedLine is the National Library of Medicine's bibliographic database covering the fields of medicine, nursing, dentistry, veterinary medicine, the health care system, and the pre-clinical sciences. Free access is available through the Internet at the PubMed website. No login is required.
Accessing PubMed | MedLine
Select Research from the top menu of the Libraries website
Select Databases.
Select PubMed | Medline.
---
Searching PubMed | MedLine
Use the Medical Subject Headings (MeSH) database to find medical terms, definitions, and substance names (not articles). MeSH is a great resource if you are unsure of the best keywords with which to search. MeSH allows you to build a PubMed search with medical-specific search terms; when you transfer your search to PubMed you will retrieve extremely relevant articles.
Change dropdown menu to MeSH (Medical Subject Headings).
Enter your search term. Select Search.
Check the box next to the term(s) you want included in your search.
Select Add term to search builder.
Go back to MeSH search box; search for next term. Find the right term in your result list; add it to search builder. Repeat as necessary.
When finished "building" your search, select Search PubMed.

Search Results
Use PubMed's filters to refine your search results. Filters are on the left side of results page. Limit by published date, type of article (e.g., clinical trial, meta-analysis), language, sex, and more.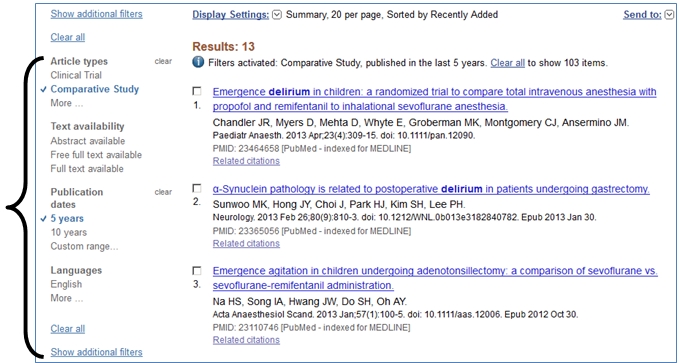 ---
Accessing Full Text
Select the article title.
Select the Find Full Text @ Saint Mary's button in the right sidebar.
Select the link to:
Get the article (e.g., Get this article from ScienceDirect). If off-campus, log in using your Saint Mary's email and password. OR
Request the article through interlibrary loan from another library. Articles will be delivered to your Saint Mary's Gmail address in 1-2 days.
Troubleshooting: If the Find Full Text button does not appear on the article record page, use Google Scholar to see if we have the full text of the article.
---
Permanently Save Article and Search Results
In order to save and access your articles or past searches later, you need to create a free NCBI account.
After you have performed a search and netted relevant results, select the boxes next to the articles you would like to save.
Select the Send to dropdown menu; select Collections.
You'll be asked to name your collection. (Or you may "append" an existing collection.)
Articles saved!
Saving a search
After you perform the search you will see, at the top of the results page, hyperlinked text that says Save Search. If you are signed into your NCBI account, your search will be saved when you select that link.